christmas at the mansion house & garden
The forecourt of the Mansion House & the Garden has been transformed into a spectacle of illuminations and will herald in Christmas and create a magical atmosphere to visit the traditional Crib. For the first time, the Christmas experience has been extended to include the Garden and the Oak Room.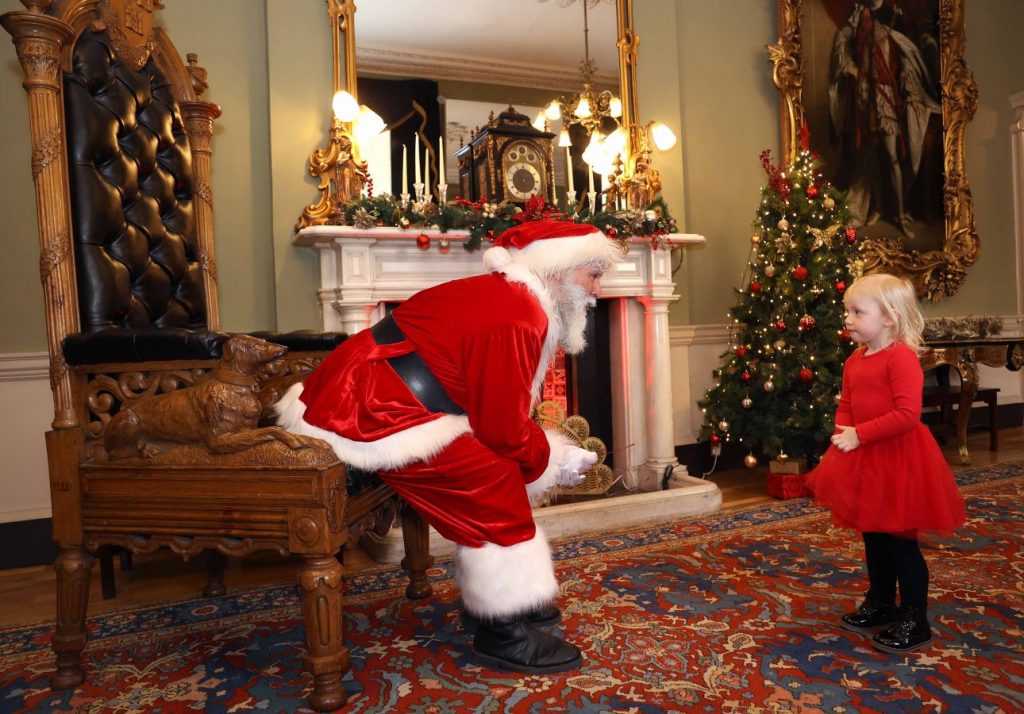 There is plenty to get you into the spirit of Christmas at the Mansion House this year including:

The Wishing Tree: Set in the Mansion House Garden, this tree will be adorned with the wishes and dreams of the Christmas Mansion House visitor.
A Traditional Crib: Built by two Dublin City Council apprentice female carpenters the traditional crib.

Pot Grown Christmas Trees: To incorporate the theme of Biodiversity, grown in pots, these young trees will survive the Christmas period to be collected, returned to the Wicklow Mountains and planted for another year. These Christmas Trees are powered by solar charged batteries.
Oakroom ReCreate Workshops: New for 2022, taking place on Saturday 3rd of December, these workshops will inspire tomorrow's inventors, designers, engineers, and entrepreneurs. Participants will learn how to funk up their wear into Christmas jumpers or create a fabulous Christmas Table centrepiece. We have reached out to local community groups to offer opportunities to young people, who traditionally might not have come into the city, to take part in the workshops.

Pedal Power Workshop: Visitors can get on a bike and create E-leg-tricity and light up a Christmas Tree through pedal energy. Their peak pedal power is converted into energy that powers the fairy lights on the Christmas Tree. Have fun, keep fit and earn about sustainable energy.
Entertainment will also be provided from 3rd December up to Christmas by a variety of community and school choirs from throughout Dublin, musicians and performers and Christmas character animations.
EVENT OPENING TIMES
Open Daily: 3rd Dec to 24 Dec 12pm – 6pm Christmas at the Mansion House

PROGRAMME OF EVENTS
Dates Time
Sat 3 Dec 12pm – 1:30pm Re-Create Workshop – Funked Up Festival Garms – Participants invited to bring winter clothing (hats, scarves, old jumpers) and make them uniquely sparkle for the winter season.
Sat 3 Dec 2:30pm – 4pm Re – Create Workshop – Creating a winter inspired table center piece.
Sat 3 Dec- Throughout the day Christmas Circus Performers
Sun 4 Dec 2pm – 2:30pm Dublin Ukulele Collective
Sun 4 Dec 4pm – 4:30pm Dublin Ukulele Collective
Mon 5 Dec 12:pm- Scoil Chaitriona – Choir
Wed 7 Dec 12:pm- Virgin Mary GNS – Choir
Fri 9 Dec 12:pm- St. Mary's Holy Faith Secondary School – CHOIR
Sat 10 Dec 1pm – 2pm Workshop – Create a Sustainable Christmas Wreath
Sat 10 Dec 3pm – 6pm Pedal Power – Light up a Christmas Tree through pedal energy
Sun 11 Dec 3pm – 6pm Pedal Power – Light up a Christmas Tree through pedal energy
Wed 14 Dec 12pm – 1pm Beneavin De La Salle School Choir + St Audeons
Thurs 15 Dec 7pm – 8pm Darndale Community Choir

17 Dec – Throughout the Day A day of choirs at The Mansion House
18 Dec 2pm- Sustainable Wreath Making workshop with Flowerpop, All wreath materials and tools included,45 min Workshop,20 participants, Get your tickets
22 Dec- Throughout the Day Christmas Circus Performers
23 Dec- Throughout the Day Christmas Circus Performers
24 Dec-12pm – 4pm Christmas Eve opening times